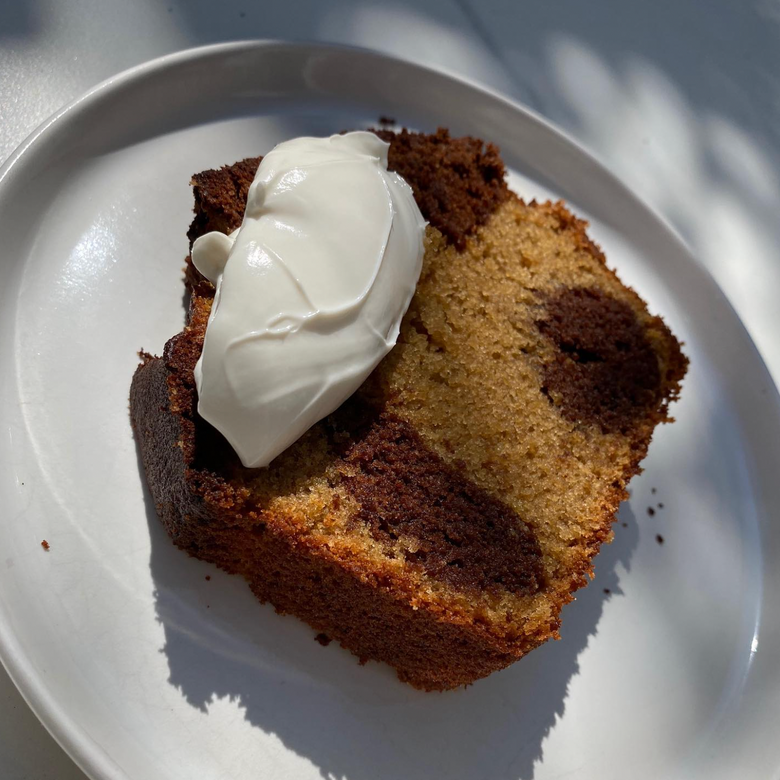 Safari Chocolate Banana Cake
Vegan, moist, gluten-free banana loaf with Future, Power blend.
Ingredients (Bowl One)
- 200g (around three) ripe bananas
- 80g coconut sugar
- 70ml maple syrup
- 2 tsp vanilla extract
- 3 tbsp melted coconut oil
- 100ml plant milk
- 1sp apple cider vinegar
Ingredients (Bowl Two)
- 250g self-raising flour (we use Dove Farm GF)
- 50g almond flour (or sieved ground almonds)
- 2tsp baking powder
- 1/2 tsp baking soda
- 1/2 tsp salt
- 3 tbsp Future by Supernova POWER Blend
- 80ml boiling water
Toppings
- Vegan chocolate chips / grated chocolate
METHOD
Preheat the oven to 185F and line or grease a loaf tin
First add the vinegar to the milk and set aside for 5 minutes.
Mash the bananas and in a bowl mix the ingredients in Bowl One above, add the milk and vinegar mix.
In another bowl mix the ingredients in Bowl Two (EXCEPT the Supernova Power Blend and water)
Add 1/3 of the dry mixture (Bowl Two) to the wet mixture (Bowl One) and mix it in. Add the rest of the mixture one tablespoon at a time, until it's a stiff batter mixture.
Divide the batter into two bowls
For the chocolate batter, add the Supernova Powder Blend and a little water to loosen it up. I like to add a little chocolate chips here too.
Pour the beige batter into the loaf tin. You can now either spoon the chocolate batter into parts of the batter, or I like to pop it into a piping bag and 'inject' it into the batter for random chocolate parts all over. When it's cut it looks like a giraffe or cheetah print!
Cover the top with more chocolate chips
Place in the oven for 55-60 minutes, check with a knife from the centre of the loaf for it to come out clean.
Leave it to cool for 10 minutes before taking it out of the loaf tin.